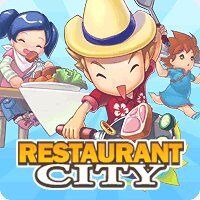 Restaurant City was a Facebook gaming application by Playfish. It went into public beta on April 28th, 2009. Restaurant City can be played on Facebook. Additionally, it has a Facebook Fan Page.
The goal in Restaurant City is to be an exceedingly popular restaurant and increase in restaurant level and dish quality. A restaurant needs at least two employees to function; a chef and a waiter. Through popularity, a restaurant can attract more customers. As a restaurant attracts more customers, it needs more employees. A restaurant gains the ability to hire more employees as it rises in level. The restaurant also grows in size as it gains levels, and can serve drinks and grow certain ingredients in a garden.
When first opening, the restaurant has access to one main, one starter, and one dessert dish. The dishes a restaurant serves depends on what ingredients the restaurant has collected. Each dish requires at least three ingredients in order to increase its quality level. There are some dishes and some ingredients that are restricted, either by a duration of time available (typically surrounding a holiday), or only available through the Gourmet King, or only available through the fan page.
In addition, restaurant owners can help their friends in their restaurants. At a friend's restaurant, a player can clean up any trash, water garden plots, and help with catastrophes that have befallen their friend's restaurant.
While playing, awards can be obtained for doing certain deeds, including gaining a level 10 dish, helping friends, fixing toilets, and more. There are three tiers of each award.
Restaurant City has closed down as of June 29, 2012. However, there is a relaunch by fans of the game called Restaurant City 2016 but doesn't have the new features quite yet, and a remake Food Friends that is similar to the old game.