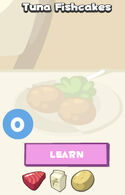 Recipes are obtained by collecting the appropriate ingredients and learning the recipe within your menu.
The game starts you off with one starter dish, Tomato and Basil Soup, one main dish, Burger and Fries, and one dessert dish, Fruit Selection. At level 9, you automatically learn the Glass of Water drink when drink-serving unlocks.
Leveling Up
Edit
Recipes start at Simple, such as Simple Margarita Pizza. After obtaining the recipe the first time (level 1, some recipes start at level 1), you can level a recipe up nine times (for a maximum of level 10). Each time you level up a recipe, it gains a new title. For more information on recipe levels, see Level (Dish).
There are three awards associated with leveling dishes, depicted by a spatula and spoon on a plaque:
Classy Cook

Get 1 dish to level 10

Culinary Artist

Get 5 dishes to level 10

Gourmet Chef

Get 20 dishes to level 10
Some recipes, such as holiday dishes, are available only for a limited time. After the duration is over, these dishes disappear from the menu if you haven't learned them. However, you can still level up limited edition recipes if you obtained them.
The following table lists all recipes, past and present, that have been available to learn. Recipes marked with an asterisk (*) were limited time offers and cannot be obtained currently.
Recipes are broken down into meal types (Starter, Main, Dessert, and Drink) and then into recipe types:
Free Recipe - start at level 1 when you first open your restaurant (or unlock drinks).
Freely Available - available all the time.
Limited Time - available for short durations.
These recipes include:
Fan Freebies - available only to fans.
Gourmet King - rewards from finding the Gourmet King.
Themed Meals - based on a particular holiday theme, such as Christmas or Halloween, or on a random idea, like the Wild West or Ancient Egyptian. Some themed meals have a limited duration availability, but not all of them.
Sunday Special - limited recipes available on a Sunday only.
Starter Recipes
Edit
Main Recipes
Edit
Dessert Recipes
Edit